The Future of Self Leveling Underlayments is Here!
Synthecem™ Cement Technology = volume stable cement technology
Higher flow = flatter surface for finished flooring
High strength = exceptional surface durability and resistance to load
Designed from the outset for the discriminating flooring professional

More than Calcium Aluminate Cements, and far more than Engineered Cements, Synthecem is purpose-driven, hydraulic cement underlayment technology that optimizes successful installations.
Working from a baseline of European Technology, Synthecem sets a new performance standard by combining a proprietary blend of carefully controlled cements (including portland cement) and chemical admixtures.
Integration of Synthecem DNA means products offer outstanding dimensional stability, bond, self-leveling and smoothing characteristics.
Synthecem powered products have;
Superior volume stability
High flow
Optimal smoothing
Exceptional surface durability
Flatter surface
High strength
Reduced dust during mixing
Clean, prime and pour with Synthecem powered products to generate flat, smooth and hard surfaces that are suitable for all finished flooring.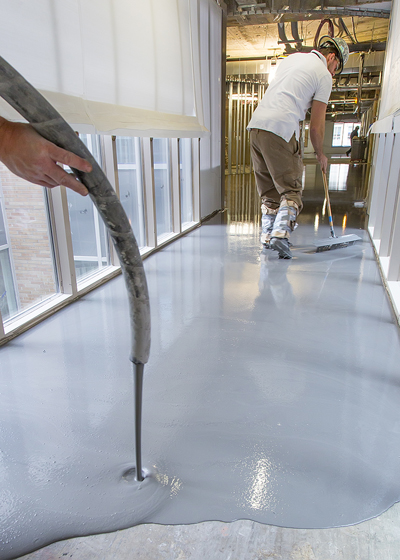 Synthecem Generates Value
Owners & Specifiers
Materials utilizing Synthecem technology facilitate flat, durable floors that provide for efficient flooring installation and increase the value of a whitespace.
Products can contribute to obtaining LEED credits, and are LEED 4.0 ready!
Distributors
Simplify the contractors life. Synthecem derived materials mean less work, more forgiveness and better outcomes for contractors.
Contractors
Materials utilizing Synthecem technology require less surface preparation, ensuring maximum jobsite versatility. Materials feature reduced dust when mixing, offer greater working time and forgiving placement.